"It's not so much that it's bad, as it's hurting America ... Stop, stop, stop, stop hurting America."
Jon Stewart, referring to CNN programming while on Crossfire
A bride is on the run in America.
If you listen closely, you can hear the cable news producers popping open champagne in their control rooms. As of this morning, they know the headline story that is going to eat up hours and hours of programming for the next week.
You might think the American media is completely incapable of adequately covering the world events while a
People/Us Weekly
-level tabloid drama is unfolding. Sadly, it's a choice. They
can
cover important domestic and world events even while:
A) A bride is on the loose.
B) A cat is in a tree.
C) A celebrity is kissing another celebrity.
...they just choose not to do so.
Case in point, here are CNN's two flagship sites right now
(7:57 am, Pacific)
.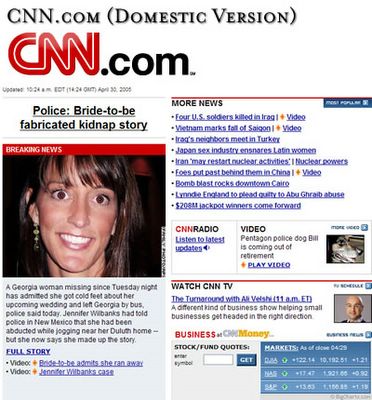 Source: CNN
Like its cable peer, CNN.com has gone completely apeshit.
Iranian & North Korean nukes? Bombs exploding in Egypt? Don't bother me --
A bride faked her own abduction
!
Source: CNN
This is CNN's international site
(http://edition.cnn.com/)
. Look at this BBC-level of sophistication. They practically look like NPR. I've highlighted the same runner-bride story so you don't miss it. That's about the level of emphasis that the story deserves in America as well.
They can report important news first, they just choose not to. The entities that own these news outlets believe that they must maintain a tabloid angle in order to keep an audience for their advertisers. This strategy works for today...
...but tomorrow is an open question. There is a vacuum today for mass market, serious journalism -- a vacuum that (quite oddly) is being filled by a number of blogs.
Here are some recent viewership numbers concerning cable news popularity, taken directly from that Republican Flack,
Matt Drudge
. The number next to the show's name reflects 24-hour viewership in millions.
CABLE NEWS RACE
WED, JAN 05, 2005

FOXNEWS O'REILLY 2.3 [RATING]
FOXNEWS HANNITY/COLMES 1.7
FOXNEWS SHEP SMITH 1.6
FOXNEWS GRETA 1.4
CNN LARRY KING 1.1
COMEDY DAILY SHOW 1.1
CNN WAVE SPECIAL 0.8
MSNBC HARDBALL 0.5
MSNBC AMBER FREY 0.6
MSNBC SCARBOROUGH 0.4
MSNBC OLBERMANN 0.3
CNBC MILLER 0.1
Now take a look at
the number of people
who visit one of the more popular progressive blogs,
Daily Kos
. That's right, more people read Daily Kos than watch Chris Matthew's Hardball yellfest.
If major US news outlets fail to deliver intelligent news and commentary, their audience will learn to find it elsewhere.